Canadians Love American Chocolate Bars!
There are many differences between Canadians and our neighbours down south. Even though we can't compromise on the spelling of the word colour, one thing we share is our love for chocolate and candy bars. Some of the American Chocolate Bars listed are very difficult to find in Canada unless you visit our online candy store!
Some of the items were readily available in Canada waaay back in the day. So if you see some you recognize, the nostalgia may kick in. Even though they are still produced to this day, many of them are old fashioned candies and chocolates because they were introduced so long ago!
Now before we get started we must explain-we didn't rank these in any specific order because we couldn't decide which was best, and we love them all so much! So that being said here are our top 15 favourite American Chocolate and Candy Bars!! (In no particular order).
When it comes to American Chocolate Bars, 100 Grand Bars are a very popular choice! Produced by Nestle, they were actually known as $100,000 Bar spoken as "hundred thousand dollar bar" until the mid-1980s. The candy bar was created in 1966, and named after a series of successful game shows and of course, the candy bar's appropriate slogan is "That's Rich".
Did you know?  Two separate radio stations in Boston and Kentucky held contests in which the winners would take home "a hundred grand" and not telling the contestants that the prize was actually the American chocolate bar. They were both sued and the contest winners were awarded one hundred thousand dollars cash as well as the chocolate bar.
Did you know? 5th Avenue bars haven't been advertised since 1993, but still, remain available at retailers and of course right here at Candy Funhouse.
Although unconfirmed, the name of this American Chocolate Bar produced by Hershey's is speculated to have been associated with the elegant and stylish 5th avenue in New York City. Introduced in 1936 this retro chocolate bar consists of a crunchy peanut butter center covered in layers of chocolate. Many people would agree that this chocolate bar is very similar to another American chocolate bar on this list, the Butterfinger, but more on that later.
Did you know? From 2003-2006 Hershey's experimented with various limited-edition flavours such as Pina Colada, white key lime, passion fruit, and toasted coconut.
Introduced in 1946 and manufactured present day by Hershey's, this coconut fondant filled, almond-topped, chocolate covered American Chocolate Bar is sought after by many retro candy lovers. They are similar to Mars' Bounty bar, sold in Canada and the UK, but with the added taste and texture of almonds.
Did you know?  After being introduced in 1920, Mounds Bars became a hit with the U.S. military during World War II, who by 1944 purchased 80% of their products for use in rations, which worked out to be nearly 5 million chocolate bars a month!
Mounds are Almond Joy's little brother. The shredded coconut filling which is engulfed in dark chocolate and the absence of almonds are the two main differences between the two retro American chocolate bar brothers. In 2006 Hershey's produced a limited edition chocolate bar that saw the coconut filling flavoured and coloured orange.
Did you know? Characters from the popular TV series, The Simpsons, appeared in advertisements for Butterfinger from 1988 to 2001.
This Buttery American chocolate bar originated in Chicago Illinois in 1923 and is currently being produced by Nestle. Butterfinger consists of a crispy peanut butter center that's perfectly blended with a candy mixture all covered in buttery smooth chocolate. In an early marketing campaign, the original manufacturers dropped Butterfinger's and Baby Ruth's out of planes as a publicity stunt /marketing campaign.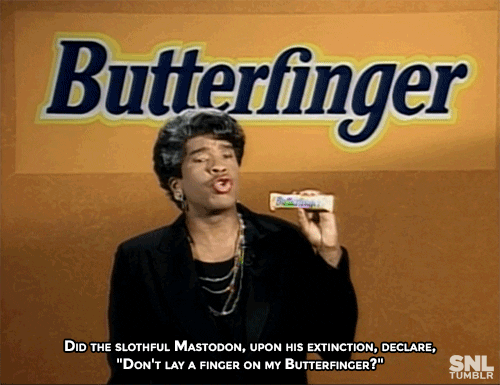 Did you know? The name of this retro American Chocolate bar came from a very popular dance at the time, called the Charleston and was originally a vanilla taffy bar covered in chocolate.
Charleston Chews Candy Bars were originally created way back in 1925, talk about retro! Currently produced by Tootsie Roll Industries, these American candy bars are available in three flavours present day, vanilla, strawberry, and of course chocolate.
Did you now?  It is speculated that the center of this American chocolate bar wasn't as crunchy as it is today, rather having gooey-er honeycomb origins.
Clark Bar dates back to 1917 and originated in Pittsburgh Pennsylvania. This American candy bar consists of a crunchy peanut butter center covered in delicious pure milk chocolate.
Did you know? Early advertisements for this American chocolate bar claimed "Heath for Better Health". So delicious were the Heath Bars, the U.S. Army placed an order worth $175,000 to be included in soldiers rations during World War II.
This thin slab of toffee covered in chocolate dates back to 1914 and begins its journey in Robinson Illinois. For many years Heath was a family-owned and operated the business until it fell into the hands of Hershey's in 1996. Hershey originally created a similar Skor Bar to compete with the Heath Bar.
Did you know? When originally introduced in 1938, Krackel contained almonds and then peanuts were added in 1939, but ultimately in 1941, both nuts were swapped out for crisped rice pieces.
Krackel was produced by Hershey's to rival Nestle's Crunch bar. It debuted in 1938 and was enjoyed until 1997 when it took a 17-year hiatus. Thankfully, Krackel was reintroduced in 2014 for our enjoyment! 
Did you know? Milky Way, Mars, and 3 Musketeers are all very similar but differ slightly depending on where they are sold and contrary to popular belief these chocolate bars are made here on earth!
You don't have to be an astronaut to enjoy this galactic treat! Milky Way Bars were introduced in 1923 and manufactured in Minneapolis, Minnesota by Mars. This out-of-this-world chocolate bar consists of a chocolate-malt nougat center with a layer of caramel on top all wrapped in the most delicious milk chocolate.
Did you know?  Milton Hershey originally didn't want his chocolate associated with peanuts so they introduced it with a fictitious company called "Chocolate Sales Corporation". 
Introduced in 1925 and still manufactured by Hershey's today, Mr.Goodbar is a classic American chocolate bar made with delicious milk chocolate mixed with fresh peanuts. 
Did you know?  The original recipe was made with cashews, chocolate, raisins and Brazil nuts. Nestle changed the formula to peanuts, raisins, and chocolate when it took over rights to the brand.
New York City's Philip Silverstein introduced this trapezoid shaped American chocolate bar in the late 1930s. It contains Nestle milk chocolate, California raisins, and roasted peanuts. The bar used to be made as one chunk, but when Nestle bought the company in 1984, they started producing them segmented, to promote sharing.
Did you know?  A fire destroyed the production plant in 1980 and with the help of L.S. Heath and Sons Company (the makers of the Heath bar), the candy bar was still produced until a new facility could be made.
Payday Bars dates back to 1932 and are currently being produced by Hershey. It consists of a nougat center covered in caramel, then rolled in fresh peanuts that entirely cover the candy bar. As a promotional tactic in 1989, Payday Bars contained an individually wrapped nickel.
Did you know? The Creator of Reese Peanut Butter Cups was a shipping foreman for Milton Hershey, the founder of The Hershey Company. Reese was inspired by Hershey and ventured out to make his own company.
This popular American chocolate and peanut butter treat was introduced in 1928 and consists of a milk chocolate cup with a peanut butter center that is currently produced by Hershey's. As of September 20th, 2012 Reese Peanut Butter Cups was the best-selling candy brand in the United States with sales of $2.603 billion and was the fourth-best-selling candy brand globally at the time. There are many variations of the size and ingredients but the original still remains our favourite, with Reeses Pieces coming in at a close second.
Honourable mentions
Did you know? Although they contain a small amount of cocoa, the Zagnut Bar contains no chocolate. It has become popular among U.S. troops stationed in Iraq and Afghanistan, thanks to there being no chocolate to melt.
Originally introduced in 1930, and now a product of Hershey's, the Zagnut candy bar is made up of peanut brittle with cocoa, and toasted coconut. The origins of the American candy bar's name still remain a mystery. The "nut" half is speculated to have come from the coconut or peanut ingredients.
Now we could make this list probably 50 items long but we know we would cause too much drooling. And instead of going insane picking which of our favourites make the list we have put them here at the end as honourable mentions.
Reeses Pieces - The Hershey's Company - a great variation on an already great candy bar!
Hershey's Milk Chocolate - Hershey's-classic, standard. Some of the words that come to mind when we think about this staple in American chocolate bars that is Hershey's Milk Chocolate.
Baby Ruth– Nestle - nougat covered in a peanut and chocolate coating, need we say more?
Skybar – NECCO - Each Sky Bar has four sections, each with a different filling: caramel, vanilla, peanut and fudge, all covered in milk chocolate. Yum!
Did you know? Canada has a nearly identical Candy Bar called the Special Crisp, also produced by Hershey's, but is not nearly as popular as Whatchamacallit in the United States.
This American chocolate candy bar was introduced in 1978 and is still produced by Hershey's. Whatchamacallit consists of a peanut flavoured crisp with caramel layered on top and all covered in yummy milk chocolate. Whatchamacallit Bars have been popular for being used in recipes of cheesecakes, cupcakes, and pies.
That does it for this time, but make sure to follow @candyfunhouse on Instagram and @candyfunhouseca on Twitter!
What American Candy and Chocolate Bar is your favourite? Did we miss one? Please be a Sweetie and leave a comment below. Thank you, thank you very much!