Candy Funhouse in the Press
Here are some articles about Candy Funhouse, the events we have hosted, and the contributions we have tried to make to our community! 
Poetry slam coming to Preston this Saturday
Waterloo Region - September 10, 2014

CAMBRIDGE - The world of spoken word is coming to Preston this Saturday (Sept. 13), taking over at Candy Funhouse on King Street.
This event, which gets underway at 7 p.m., is headed by Kitchener-Waterloo Poetry Slam.
It is designed to provide artistic opportunities to anyone who wants to take the stage and share his or her story with fellow participants and observers.
Admission costs $5 per person or "pay what you can".
If successful, this event will continue on a monthly basis. 
---
Candy buffets that will wow your guests
Waterloo Region Record - August 15, 2014

     Candies in colourful wrappers are not just "eye candy", they can add sweetness to any event.  That is why candy buffets have become a top new trend for weddings and other special occasions. If you want a candy buffet for your event,Candy Funhouse, your favourite candy store in the Waterloo region, can help you with the following:
1.    Picking out the candies you want
Candy Funhouse carries hundreds of brands from all over the world, so you'll have a lot to choose from. You can order loose candy in bulkand individually packaged candy. If there's a particular brand that you definitely want for your party and it's not available in the store, the staff will search it for you and bring it in if it still exists.
2.    Deciding on colours and theme
If your party has a specific colour theme, just let the staff know and they will help you pick the right colour variation for your candy buffet. Candy Funhouse does candy buffets with specialty colours that will suit your heart's desire. The store carries a wide array of Jelly Belly beanstoo, which are perfect for colour layering.
3.    Table design and centre piece
You can use a well-decorated candy buffet to be the focal point in your party space, so it is important that it looks pretty and not empty. Having hosted many events and parties in the purple building, the Candy Funhouse team can prepare a candy buffet that will surely wow your guests.
Aside from candy buffets, you can also visit the store for party favours, gift baskets and birthday presents. It's a one-stop shop for all occasions! The candy store also carries novelty and pop culture items, like old tin lunch boxes, dress-up magnets and Dr. Who collectibles. They also sell products from Chocolate Moonshine Co., the producers of the best fudge in the world!
---
Candy Funhouse: From a local candy store to a national brand
Waterloo Region Record - August 15, 2014
     Building a national brand is not always an easy task; it takes years of hard work. For Candy Funhouse in Preston, it takes lots of hard work, but not really a lot of years. In fact, they have already shipped to every corner of Canada in just six short months! Candy Funhouse is not just your favourite local candy store anymore, but also everyone's favourite national candy store!
Every day, the candy store gets multiple requests forBean Boozled– a Jelly Belly product similar to Harry Potter Bertie Botts Beans – that became popular on YouTube. Candy Funhouse ships and sends hundreds of Bean Boozled to every province and territory, including Deline, N.W.T., Grand Falls-Windsor, N.L., and St. Peters Bay, P.E.I.
Not only that, they also get regular visits from fans in London, Brantford, Stoney Creek, Hamilton, Mississauga, and other parts of Southwestern Ontario.
With hundreds of local, national and international candy brands available in-store and online, Candy Funhouse becomes the centre of candy universe!
The Candy Funhouse team has worked and has been continuously working onprojects to strengthen their brand presence all over Canada and all over the world. Aside from hosting numerous free events for the community, Candy Funhouse is also a supporter of many good causes in the region.
They are also currently developing a web series called "Sweet Times", which will soon be available for candy lovers around the world.
Recently, they have started "Taste Testing Tuesdays" as well. Every Tuesday, visitors can come to the store to tickle their taste buds with candies they've probably never tried before. The store also includes retro candy brands, which will surely take you on a trip down memory lane!
---
Pouring it forward for Ronald McDonald House
Cambridge Times - August 15, 2014
     CAMBRIDGE – There is something about a kid with a cause that brings out the best in people and that's exactly what happened this past Wednesday (Aug. 13) in front of Candy Funhouse on King Street.
Decked out in a bright yellow apron and sporting a set of big pink sun glasses, four-year-old Kylie Hass set up a lemonade stand and proceeded to get down to business raising more than $3,100 for the Ronald McDonald House charity and selling 291 cups of lemonade in just a few short hours.
Not bad for a kid who just two years ago was diagnosed with Acute Lymphoblastic Leukemia and went through 26 months of chemotherapy. She is now in remission.
"The response was over-the-top amazing," said Kylie's mom, Brooke. "She was really tired out by the end of it, but she had a really good time."
Moe Hejazi, owner of Candy Funhouse in Preston was thrilled to be part of the day.
"When I talked with her grandmother Pat (Singleton) and heard her story, I wanted to help," Hejazi said. "When Pat said that setting up a lemonade stand in front of her house wouldn't draw very many people and asked if I could help, I knew what I wanted to do ¬– give Kylie a day she'd never forget."
Hejazi said he knew "people would be super jazzed," about the event and it is part of his ongoing effort to make Candy Funhouse part of the Preston community. In helping to organize the event, Hejazi said it was decided to make it a "pour it forward" event, where everyone buying a lemonade was actually paying for the drink of the next person in line.
"That way everyone is giving something back to the community and can feel good about it," he explained.
And a lot of people were feeling pretty good by the end of the day.
"We had initially hoped to raise $1,000, but we far exceeded that," Brooke said.
The event raised $2,100 and Hass received a donation of $1,000 from Kevin Zimic of Ridgehill Ford.
"We actually live in Simcoe and we've already had people here tell us we have to do another lemonade stand here," Brooke said, Thursday morning. "We called Ronald McDonald House this morning and they were very excited to hear what we had done."
Brooke said that Kylie's excitement and the success of Wednesday's Pour it Forward event has the family now considering doing it again next year and possibly making it an annual event.
---
Leukemia survivor raises $2K with lemonade stand
Waterloo Region - August 12, 2014
4-year-old leukemia survivor Kylie served up lemonade for a good cause Wednesday afternoon in Cambridge, and the day was quite a success.
The fundraiser for Ronald McDonald house raised just over $2,000.
The lemonade stand was set up at Candy Funhouse in Cambridge, and they 'poured it forward' – 291 cups were served.
In addition to the $2,100 raised, Kevin Zimic of Ridgehill Ford has also pledged $1,000.
Kylie was diagnosed on April 20th, 2012 and received chemotherapy every week for 25 months. She had to have back surgery to remove a tumour that was compressing her spine and could have paralyzed her.
She was unable to walk for about a year but has now regained strength and is walking. She just finished her last chemo treatment on May 27th this year.
Kylie's Grandma, Pat, reached out to Candy Funhouse owner, Mo Hejazi about using his King Street East location for the lemonade stand, to which he happily agreed.
"She put this out there and I want to reciprocate 100 times over and just wow her, so that this is something that she remembers for the rest of her life. She's doing something so amazing," Hejazi says.
Hejazi has previously hosted the 'Weekend of Love' for stem cell recipient Katie Star Herron, where they raised about $6,000.
Kylie's Mom, Brooke Hass, says Kylie and her Grandma were watching an episode of Max and Ruby when the idea struck.
"Max and Ruby had a lemonade stand and she said to my mother in law, that she thought it would be a great idea to have a stand herself," says Hass. "From that day forward, every time they saw each other or spoke on the phone, Kylie would mention this lemonade stand."
---
Candytainment: The ultimate form of entertainment
Waterloo Region Record - August 15, 2014


     Candy Funhouse's  motto, "Sweet Times Live Here", isn't just lip service. Your favourite candy store in Cambridge is not just committed to bring you the best candies in the world, but to also create fun times and long-lasting memories for you and your family through quality entertainment. At Candy Funhouse, they call it "candytainment"!
Many events and parties have already taken place in the purple building at the Preston Town Centre, and it's Candy Funhouse's promise to continue creating free events monthly for the whole community to enjoy. What's good about Candy Funhouse is that they don't organize events only for the sake of fun; they also do it for a good cause!
The Candy Funhouse team dedicates itself to supporting local talents. In the past, Candy Funhouse brought in local artists, like Sarah Smith, Rufus, Nikki W., and Drew Leith and the Foundation, for free concerts. They have also organized fun events like Poetry Slams and art classes, and most recently, the successful Hip Hop Candyfest. The Hip Hop Candyfest is an annual event that aims to give budding hip hop artists in the region a platform to showcase their talents.
In addition, Candy Funhouse also supports many organizations, such as Cambridge Early Family Years and Argus Residence for Young People.
In line with their goal of creating the ultimate form of entertainment for everyone and making the world a sweeter place, a web series called "Sweet Times" is also in the works. The online series will be available not only to entertain the Waterloo Region, but also the entire world! 
---
Candy Funhouse launches first ever Hip Hop Candyfest
Waterloo Region Record - August 15, 2014

After organizing and holding a number of successful events for the community, everyone's favourite candy store in Cambridge, Candy Funhouse, has done it again with the commencement of the first ever Hip Hop Candyfest! In fact, the first annual Hip Hop Candyfest in June drew over 500 people to Central Park in Preston, Ontario.
Through the event, children ages 11 to 16 were given the opportunity to write their original music and perform it in front of a live audience and a panel of judges. Besides the six finalists who were chosen during auditions, hip hop artists Rafay Ansari (a.k.a. YBS Frack) and Exponent 3 also performed for the spectators.
The winners took home a $250 cash prize, a gift basket of candy, shirts and hoodies, and a $1000 worth of recording session in a professional recording studio.
Candy Funhouse thinks that many talented hip hop artists in the Waterloo Region migrate to other cities because there are not many opportunities for such talents, and the team behind the popular local candy store would like to stop that.
According to them, the main purpose of the event is to create a venue for young hip hop artists to express their creativity in a fun, positive way. In addition, the festival also aims to raise awareness forArgus Residence, an organization that helps troubled youth in the community to get back on their feet.
They have also started a Facebook group called Tri-City Hip Hop to create a forum for people to spread news about shows, artists and events. These initiatives serve as a proof that Candy Funhouse is more than just your ordinary candy store. 
---
Hip-Hop Gets Sweetened
Waterloo Region - June 5, 2014
     Contrary to popular belief, hip-hop culture has grown exponentially in the tri-city area over the past few years. From the fields of Elmira to the suburbs of Cambridge, youth across the region are familiarizing themselves with a culture that's not often found in their backyards.
However, even with emerging talent and growing interest, there are few avenues for youth to express their passion competitively. Cambridge's Candy FunHouse hopes to change that.
On June 14th Cambridge's pioneer candy emporium, in association with the Argus Residence for Young People, is playing host to the first Hip-Hop Candy Fest and putting on a youth hip-hop concert at Preston Towne Centre.
Aspiring emcees, 16 and under had the opportunity to audition for the concert on May 24th at Candy FunHouse. In order to move forward in the competition, contestants needed more than just skill – they needed passion.
The finalists will have the chance to perform at the June 14 festival. They will be judged on criteria determined by local, established hip-hop artists. In addition to performing an original composition, they will perform alongside these established hip-hoppers, who will also be kicking a rhyme or two. The winner of the fest will be awarded $250 and $1000 worth of recording time at Brixton Music.
So why is this festival so important to the region's youth? It's simple. Aspiring artists get to push their creativity and love for the genre further than just the confines of their bedrooms. An additional a hip-hop festival like this can show residents that rap can be pursued close to home and it has a place in our community. Giving young people the chance to perform in front of an audience including family, friends, and veteran emcees can give them the support they need to follow their rhyme-slinging dreams.
Candy FunHouse and the Argus Residence for Young People are showing how easy it can be for hip-hop to have a slice of Waterloo Region's cultural pie, while promoting partnerships that give new and creative opportunities to young people.
With community backing youthful passion, the sky is the limit. However, until then, make sure to check out the Hip Hop Candy Fest on Saturday, June 14, from 11am-6pm at Preston Towne Centre.
---
'Why the Candy Funhouse experience will make you come back for more'
Waterloo Region Record - April 1, 2014

     If you find yourself having a hard time leaving after candy shopping, become part of the "Candy Funhouse extended family" by following them onTwitter, or liking their Facebook page, and receive online updates about the purple building everyone loves to visit.
You will always have a reason to come back, not only for more candies, but also for the events. The year has just begun, but a whole list of activities has already been planned out for you, your family and your friends! Having only been open for a short while, Candy Funhouse has been entrenched in the community and visited by locals often.
Candy Funhouse is building something beyond being just a candy store. It has been a community centre, a concert hall, and even a place for artists to express themselves. After bringing in local and indie musicians such as, Sarah Smith, Drew Leith and the Foundation, Ginger St. James, and Mo' Kauffey, the Candy Funhouse team will be featuring more talents to perform like, Nikki W., Rufus, and 91.5 The Beat's DJ Flash.
Candy Funhouse definitely knows what social responsibility means. In 2013, the store donated money towards supporting a local school in the community. This year, one of their earliest giving back projects is to support the Cambridge Early Family Years Centre, a non-profit organization that provides accessible social and educational programs and resources to the parents and children of the community.
When you first enter Candy Funhouse, you will immediately experience a sensory overload. As you step into the purple building on King Street East in Cambridge, an explosion of colours on the wall, and volume of candies on display will welcome you. The store is a work of art!
---
'Candy Funhouse: More than just a candy store'
Waterloo Region Record - March 1, 2014

     The team behind Candy Funhouse www.candyfunhouse.ca in Cambridge believes that in life, the "sweet times live here." Aside from offering the sweetest candies life has to offer, this extraordinary candy store is committed to being rooted in the hearts of every member of the community.
Since the store opening, Candy Funhouse has brought in local talents from all over Southwestern Ontario such as,Sarah Smith, an award-winning artist from London whose powerhouse vocals often associate her with the likes of international sensation Sheryl Crow; and Mo' Kauffey, a uniquely-talented artist from Guelph who plays acoustic blues using his old Supratone arch-top guitar.
Local rock artists have played their music at Candy Funhouse as well, like Drew Leith and the Foundation, whose music is dubbed as Canadian Folk-rock; and Ginger St. James, a rockabilly queen from Hamilton who is known for her sass and sultry, expressive voice.
Free mini concerts are just a few of the fun activities offered by the Candy Funhouse team. In the days to come, they aim to offer more free entertainmentto the store's loyal customers and supporters— a gift for the community.
Part of the store's plan is to hold weekly events to support local and indie musicians, and host a talent show for children similar to American Idol. They will also be hosting art shows, exhibitions, and mystery theatre dinners. 
---
'Make sweet times even sweeter at Candy Funhouse'
Waterloo Region Record - February 28, 2014

     Whether you're celebrating your birthday or hosting a baby shower, you can always make your special day even sweeter. Celebrate it at the sweetest place in the Waterloo region, Candy Funhouse! Besides the wide array of candies that this candy store has to offer, it can also prepare fun parties for you!
The Candy Funhouse team has hosted several birthday parties and baby showers. Before your big day, here are some things to consider when planning your party:


Budget
The budget, as always, is first to be considered when planning an event. Although, this fact is often forgotten when the excitement takes over, setting a realistic budget will help you avoid future stress. When it comes to choosing a venue that suits every budget, you can rent Candy Funhouse's party room at an affordable price.


Food Menu
Ask your guests in advance if any of them have food allergies or a special diet, so you can prepare a menu with a selection of food for everyone to enjoy. To add to your menu, Candy Funhouse will also prepare a candy buffet for you!


Invites
Online invitations are popular these days, but handing out or mailing card invitations with a hand-written note adds a more personal touch to your invite.


Program and Entertainment
Whether it's a fashion photo shoot, musical chairs or freeze dance, at Candy Funhouse, you can choose your own set of games for your party! You'll never have a birthday in a more fun or cooler venue as each birthday is customizable. In addition, the hosts will provide a real personal touch to your event to create an unforgettable day for everyone.


Party Favours and Loot Bags
Help your guests remember how fun your party was even after they leave with Candy Funhouse's pre-packaged and customizable loot bags and gift baskets! 
---
'Candy Funhouse: The purple building where sweet times live'
Waterloo Region Record - February 25, 2014

     A lollipop tree and taffy-oozing walls of colour and delight… Candy Funhouse surely sounds like a dream! Guess what? It isn't just in your imagination! Candy Funhouse is the tri-cities' sweetest spot. Even though you don't need a golden ticket to get in, it is not your average candy store.
This purple building on King Street East in Cambridge is open to everyone who is ready to experience a sensory overload. As you enter the candy store, be ready to journey through aisles of candies, toys, gifts, and collectibles! In this candy shop, you will find every candy from your childhood, such as wax lips candies, candy buttons, Bazooka, and even the Canadian favourite artisan candy, Ganong Chicken Bones. Novelty candies and candies from all over the country and the world are available, too.
Get ready to meet some fluffy friends on your journey like the famous Candy Crusher, a giant purple stuffed toy; Brown Sugar, a brown teddy bear; and the newest addition to the family, Bumble Bear, a white toy bear.
If you're planning a party, stop by at Candy Funhouse to check out their loot bags, gift baskets, and candy buffetswhich you can customize to match your party's theme. Better yet, book a party room and let the friendly staff take care of all your party needs!
Aside from parties, Candy Funhouse also hosts free concerts for everyone to enjoy. Talents from all over Southwestern Ontario, with the likes of Sarah Smith from London, Mo' Kauffey from Guelph, DLF from Cambridge, and Ginger St. James from Hamilton, have been brought in to perform.
Candy Funhouse always prepares fun events and activities https://candyfunhouse.ca/pages/events to look forward to for the kids and the kid at heart. Scoop Ice Cream and lots more will be coming this spring.
---
'Candy Funhouse: Bringing you candies from your childhood'
Waterloo Region Record - February 25, 2014

     Do you get that warm, fuzzy feeling whenever someone mentions a candy brand you loved as a kid? If you want to cure that sweet tooth, visit Candy Funhouse in Cambridge!
This candy store has an astounding collection of delectable sweets, including brands that were part of your childhood, or simply, retro candies.
For the Candy Funhouse team, retro candy doesn't just pertain to any old-time candy; it refers to the candies you indulged in as a child. Retro candy is connected to you in a more personal way as it takes you back to a simpler, happier time and place.
Whichever era you were born in, Candy Funhouse has a candy for you! The store carries retro brands from different eras, starting with ones made in the 1920's, which are all still being produced today.
Remember BB Bats, Curly Wurly and Bottlecaps? How about Gold Mine Gum and Pop Rocks? Surely these candies ring a bell. All these and more, you can get at Candy Funhouse! However, if there's a certain candy brand you're craving and it's not available in the store, the staff will even go an extra mile to search for it and bring it in—as long as it still exists.
Why not visit Candy Funhouse and grab a retro candy and share it with a friend? Or introduce some of the brands from your childhood to your child or grandchild? Don't miss out on the opportunity of sharing a moment from your childhood to that special someone.
If old-time classics don't tickle the taste buds of your kids, don't worry! The store also carries present day novelty candies and lots more!
---
Feb 11 - Velvet Rope Magazine:  Weekend of Love Brings Music, Ice Skating, and Hope
"Local candy store, Candy Funhouse is celebrating this Valentine's Day weekend with some amazing live entertainment, door prizes, dancing, and outdoor skating. Candy Funhouse, located at 775 King Street East, in Cambridge, is putting on a four day Weekend of Love starting Friday. Shows run from 2pm to 5pm andwill be featuring live performances by Rufus, Sarah Smith, Nikki W. and Drew Leith and theFoundation as well as 91.5 The Beat's DJ Flash.This event is in support of the Cambridge Family Centre and during the weekend festival,Candy Funhouse will be accepting donations for four ­year ­old Katie Star Herron to help herbattle with cancer. Candy Funhouse is encouraging everyone to be a hero and head towww.onematch.ca to sign up to become a donor to help young Katie and others in need ofstem cells. During the festivities, representatives from Onematch and family members ofKatie will be at the store to meet everyone and to raise awareness. Onematch is presentlylooking for males between the ages 17 and 35 to donate."


---
Feb 20 - The Cambridge Times: Fundraising for Katie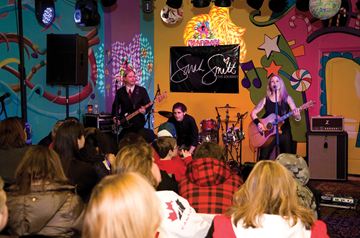 "CAMBRIDGE - Sarah Smith and her band performed at Candy Funhouse in Preston on Sunday (Feb. 16) during a fundraiser for Cambridge girl Katie Herron.
Proceeds from the concert will help her family while she undergoes cancer treatment and the search for a stem cell donor.
There will be a donor clinic this Saturday (Feb. 22) at the Cambridge Sports Park."
---
Feb 12 - The Cambridge Times: Valentine's event shows heart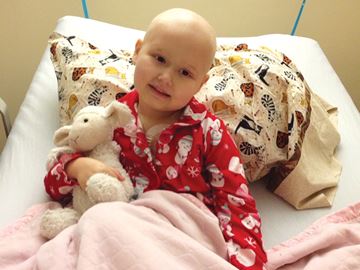 "CAMBRIDGE - Community volunteers and a local sweets shop are teaming up to share the love for a little Cambridge girl who is fighting for her life against cancer.
Local merchant Candy Funhouse is kicking off the start of Valentine's Day weekend by holding a Weekend of Love event, featuring everything from treats, live music and entertainment, dancing and ice skating.
 Candy Funhouse, located at 775 King Street E., in Preston, is hosting a four-day event, starting today (Friday, Feb. 14), with shows running from 2 to 5 p.m. Entertainment will include live performances by Rufus, Sarah Smith, Nikki W. and Drew Leith and the Foundation, as well as 91.5 The Beat's DJ Flash."


---
Mar 3rd - QuirkyCori: Candy Makes You Dandy at Candyfunhouse
"One thing that can bring people of all ages and genders together is candy because let's face it
CANDY MAKES YOU DANDY! 
I can think of no where better to get your Candy Dandy on than CandyFunhouse in the Preston downtown area of Cambridge, Ontario."
---
April 1st - The Spoke: 'Lamebridge' no more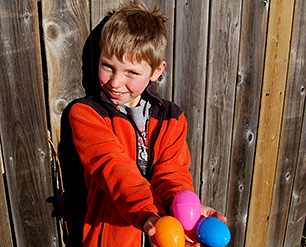 By MARK LORENTZ
"Cambridge might be one of the most popular "staycation" destinations this coming summer. The City of Cambridge recently announced in partnership with the Rotary Club of Cambridge North and the Rotary Club of Cambridge Sunrise that the first annual Cambridge Ribfest will be held at Riverside Park on Mickler field, Aug. 8-10, 2014."